Aggregator finance vehicle with public sector provision
Pinsent Masons
Tue 13th November 2012
Description and overview

This model involves public sector borrowing through a special purpose finance vehicle.

Finance may be by way of loan or bond finance. The model will be relevant in the absence of the supply of public finance.

In this particular example the finance vehicle acts as an aggregator finance vehicle raising finance on behalf of a number of public sector bodies thereby achieving economies of scale.

The model will only work where the public sector bodies have powers to borrow, for example local authorities.

The use of a special purpose company has tax advantages for a bond issue.

The finance vehicle will on-lend the funds to the public sector bodies taking whatever security is permitted by statute (the security trustee on behalf of the fund will take parallel security over the special purpose company).

For example local authorities are not permitted to charge individual assets but a statutory pari passu charge is granted over its revenues (bringing with it the power to appoint a receiver).

Where the infrastructure finance vehicle is an aggregator there may be issues around crosscollateralisation.

This may raise an issue on powers for some public sector bodies and if this is the case the infrastructure vehicle may need to be capitalised to achieve the necessary credit standing.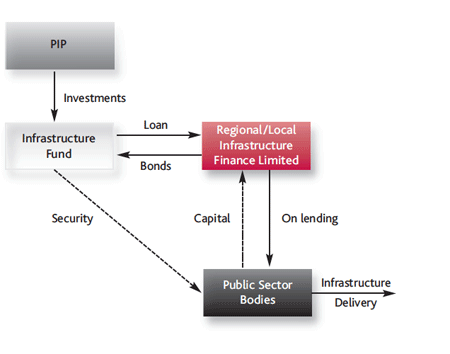 Advantages
Institutional investors have the benefit of a public sector covenant;
The structure should therefore benefit from reduced cost of funds;
The finance vehicle as an aggregator will achieve economies of scale in the cost of funds where a single public sector body would not do so.
Disadvantages
Risk for the design, build, financing and operation of the infrastructure remains with the public sector;
The borrowing will be public sector borrowing and on balance sheet.
Conclusions
Whilst this model has benefits in enabling the provision of alternative sources of private finance in the absence of public finance (or reasonably priced public finance) it is largely an alternative borrowing vehicle.

As an aggregator vehicle, it will provide finance at a lower cost for certain public sector bodies who would be unable to obtain finance at such a cost themselves.

The risk of delivery and operation of the infrastructure rests with the public sector.

The borrowing is also on balance sheet counting towards the total of national public sector debt.


---
Contact Pinsent Masons for more information.

---