Regional Infrastructure Company
Pinsent Masons
Tue 13th November 2012
Description and overview

The aim of a Regional Infrastructure Company will be to be the "intelligent" client for the public sector bodies delivering infrastructure, integrate the finance and construction elements of infrastructure delivery, be ran on private sector principles with independent management with a view to being classified as a private sector entity and procure finance and supply chain(s) to deliver infrastructure on behalf of public sector bodies.

Constructing Excellence submitted this concept in response to the Treasury's PFI Review calling it an Infrastructure Delivery and Management Company.

Essentially the model takes as its base the Glas Cymru (Welsh Water) model of an independent non profit distributing company owning and operating the infrastructure on behalf of public sector bodies.

As the Regional Infrastructure Company (unlike Glas Cymru) will be providing services to public sector bodies the non profit distributing company will need to be procured by the public sector.

It may be procured independently or else procured as part of a partnership with a private sector partner.

The Regional Infrastructure Company will procure the design, build, operation and finance of infrastructure although not necessarily through Design Build Finance Operate contracts. Most importantly it will integrate finance and construction.

The cost of the finance for the infrastructure will be serviced from user fees from public sector bodies. Any profit or surplus will be retained in the Company.

The finance itself can be raised from Infrastructure Funds through a finance vehicle.

The company will either contract directly with the contractor supply chain (which will have been procured) or alternatively purchase completed infrastructure from a special purpose company established with equity and debt to deliver individual pieces of infrastructure.

The company could be a joint venture partner in the special purpose company.

To the extent the infrastructure user payments from the public sector bodies match funding liabilities the arrangements may be on balance sheet. There may need to be a degree of capitalisation of the company for credit enhancement purposes and if so this will need to be through equity loans.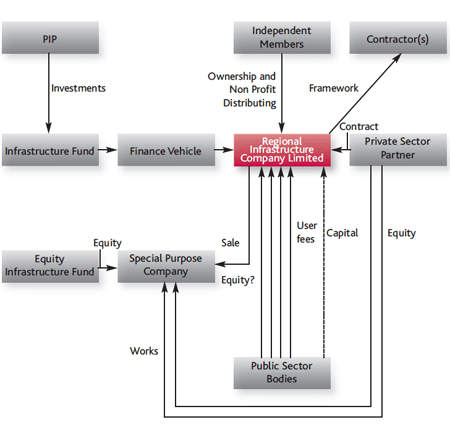 Advantages
Creation of an "intelligent" client;
Integration of finance and construction;
Finance vehicle is "aggregator" and achieves economies of scale;
Design, build, finance and operational risks with "private sector" Regional Infrastructure Company (passed down to supply chain);
Infrastructure Fund has no construction risk;
Cashflows may be hedged against inflation;
Gives rise to a co-ordinated approach to regional investment in infrastructure.
Disadvantages
Complex procurement issues;
Potential for liabilities on balance sheet.
Conclusions

The integrated approach to infrastructure delivery through regional infrastructure delivery companies will first create an "intelligent client" for infrastructure delivery and secondly, create critical mass for efficient financing.

This will require a greater degree of regional co-ordination in infrastructure provision.

It would allow public sector bodies to hand over the delivery, if not the strategy, for infrastructure delivery to a credible expert whilst leaving the public sector bodies free to concentrate on mainstream service provision.


---
Contact Pinsent Masons for more information.

---