Infrastructure funded through increase in taxes
Pinsent Masons
Tue 13th November 2012
Description and overview

This model involves the ring fencing of certain types of local taxes to enable capital investment.

The ring fenced tax stream is used to repay borrowings which have in turn been used to finance the capital investment.

Tax Increment Finance (TIF) is perhaps the best known model.

The TIF model in the UK will involve a local authority borrowing against the incremental increase in business rates arising from a development to fund infrastructure.

It has already been implemented through pilot projects in Scotland.

TIF in the UK is complicated by the regime for the levy and collection of business rates.

Put simply under the current regime business rates are collected by local authorities and then pooled centrally.

The business rates are then used as a source of funding to redistribute to local authorities as grant by reference to need.

Therefore increases in rates resulting from increased development activity are captured centrally.

This regime needs to be changed by statute to allow local authorities to retain business rates.

The central pooling arrangement also has the objective of equalising the impact of business rates to avoid some local authorities obtaining a disproportionate benefit.

TIF has been implemented in Scotland through a handful of pilot projects.

Legislation has been put in place to carve out approved pilot TIF Zones from the current business rate regime.

Local authorities can therefore use the incremental growth in business rates to raise capital to fund infrastructure.

In England a different approach has been taken which will involve changing the business rate regime.

The regime will retain an equalisation arrangement but outside of this business rates can be retained.

All local authorities will be able to retain rates in this way but the ability of the Government to re-set the whole system every ten years will hinder long term borrowing (although authorities can obviously take a view across income as a whole to borrow).

Indeed projects looking for long term borrowing will be confined to first, enterprise zones and secondly projects which will need Government approval (there is a £150m allocation).

The form of TIF that all authorities will benefit from (but subject to the equalisation mechanism) is known as TIF1 and the form of TIF where authorities are free in the long term to borrow free from the equalisation mechanism is known as TIF2.

Where the TIF project is up and running it is possible that institutional investors will take a view on the certainty of the income either to lend against it or even purchase it.

As with any type of securitisation investors may discount the price in the latter to reflect risk. Institutional investors will not want to take construction and development risks.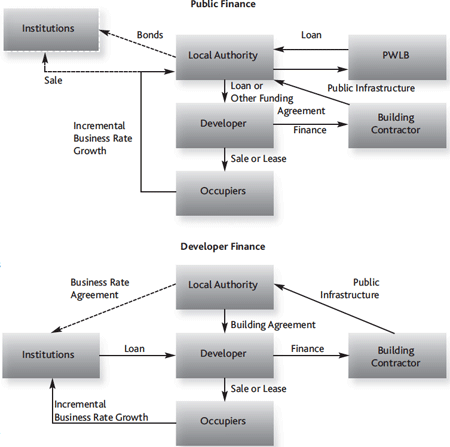 Advantages
Market based with little or no reliance on public subsidy;
Availability of scarce long term revenues to fund borrowing for capital investment;
Local authorities able to take advantage of relatively cheap borrowing costs;
Infrastructure funded from growth can stimulate further growth and funding;
Potential for raising private finance either by developer or local authority refinancing through bonds.
Disadvantages
If local authority borrows then without completion and occupation guarantees from the developer the local authority runs the business rate cash flow risk;
Risk of displacement of business rates from another part of the local authority area to the TIF;
Business rate flows reduce because of the weaker market impacting on business occupiers in TIF area;
Collection levels and bad debts;
Reduction in rateable values and thereby business rates;
Any borrowing by the local authority will count towards HM Treasury's public sector borrowing figures.
Conclusions

The success of TIF remains to be seen.

The business rate regime does not lend itself easily to TIF.

It is not a standalone tax and needs equalisation arrangements to address disparities in the tax base.

In other words it is not new money and hence why TIF2 is limited (ie to retain the business rates free from equalisation means that funding must come from other budgets).

However if used as a revolving fund (with the potential also for a proportion of TIF1 monies) then it has the potential to be a strong cashflow (with the further potential of being a hedge against inflation) to attract institutional investment.


---
Contact Pinsent Masons for more information.

---