Investment Funds
Pinsent Masons
Tue 13th November 2012
Description and overview

This model involves the creation of a fund using public sector assets or the proceeds from assets and other revenues for investment in infrastructure projects.

The fund may involve a "cocktail" of public sector funds from different sources thereby creating something akin to a public sector holding fund.

Public sector sources of finance could include, Community Infrastructure Levy, retained business rates, New Homes Bonus, Regional Growth Fund and Growing Places Fund.

The public sector cash or equivalent is invested in a fund which is match funded by institutional investors.

The investment fund will be managed by a FSA accredited fund manager and will invest in specific projects by reference to pre-agreed investment criteria.

Unlike with public sector grant funding the funds will be recycled from successful projects.

The investment fund model may be adopted for housing enabling a fund to be created (a Local Housing Investment Fund) from different sources of housing funding such as New Homes Bonus, HRA surpluses, registered provider surpluses and funds from housing developers (ensuring that the rules in relation to the local authority Housing Revenue Account are adhered to).

Such a housing fund could operate alongside a Social Housing Real Estate Investment Trust (REIT) as an alternative source of social housing finance.

A REIT has distinct tax benefits, although the nature of social housing will mean the REIT model will need to be adapted. There will also be regulatory issues associated with social housing and the transfer of existing stock.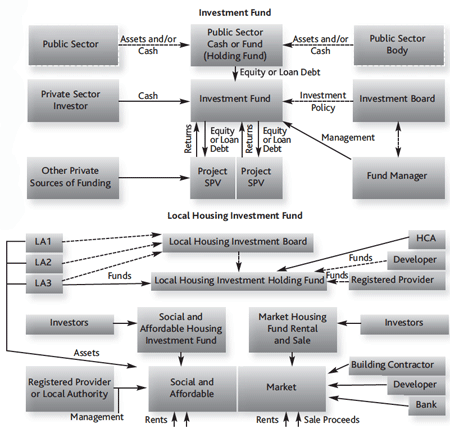 Advantages
Can be focussed on more than one project with investment spread across a geographical area (or beyond if the public sector fund involves more than one local authority);
Public sector "controls" will be restricted to setting investment criteria/policies;
Investment criteria/policies can have the benefit of wider input from a stakeholder investment board;
Investment will be professionally managed through an employed investment manager;
Assets can be contributed to the fund and either realised or included as individual project investments.
Disadvantages
Funding must be State Aid compliant so limited opportunities for "gap" funding save for established State Aid exemptions;
Query rationale for fund in times of liquid funding markets;
May need to pool with other local authorities otherwise relatively low value fund may have insufficient critical mass;
Conclusions

There are various other models around fund structures which could attract institutional finance.

However, each will need to be looked at on a project specific basis and there will be the potential need for de-risking.


---
Contact Pinsent Masons for more information.

---